What is a CMT and CMT Certification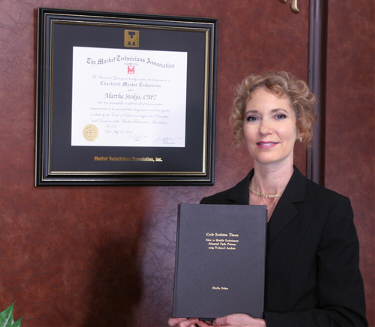 Chartered Market Technician is a professional certification for professional technical analysts administered by The Market Technicians Association.
It is the ONLY certification for technical analysts approved and recognized by the SEC, NYSE and NASDAQ, and qualifies the awarded individual a series 86 SEC Analyst Certification.
The CMT certification process is a lengthy one requiring many years of study and employment as a technical analyst.
First of all CMT candidate must be a working professional in the field of technical analysis for 5 years before they can become a member of The Market Technicians Association. They must be a member to qualify for full CMT status.
Next there are 2 written proctored exams, both require 6 months to 1 year of preparation. The candidate must have a knowledge base that extends beyond the reading materials required by each proctored exam, and the exams must be taken 6 months apart.
The third part of the CMT pcertification rocess is to write a doctorial equivalent thes is that expande the body of knowledge of technical analysis. The outline has to be approved by a consensus vote before the thesis can be written. Then a committee has to read and review the thesis with a unanimous vote to achieve the CMT status.
Martha Stokes, CMT was awarded her CMT certificate after dedicating 5 years of extensive
research and analysis in writing her doctorial equivalent thesis titled.
"How to Identify Evolutionary Abnormal Cycle Patterns using Technical Analysis."
Martha' Stokes, CMT's thesis consists of 92 charts with 100 written pages on cycle evolution theory. This was a landmark thesis that totally changed the way cycle theorists and technical analysts understood and approached cycle theory analysis. Her concepts continue to revolutionize our understanding of cycles and their function in the economy and the stock market.
The Market Technicians Association

:



Since the inception of The Market Technicians Association in 1973 which was over 34 years ago to the date of this writing, approx 1000 people worldwide have passed the examinations required to earn the CMT certification. Currently as of January 2016, there are 1162 CMT certifications. Most are employed by the banking investment industry and the buy side or sell side of the market.
Why is this important to you?
Each professional field has an accreditation committee that regulates and tests individuals to make certain that they have an extensive body of knowledge and expertise in their field. The ceritfication process of testing and thesis writing differentiates these professionals from all others working in their field of expertise.