Martha Stokes, CMT Live Radio Show.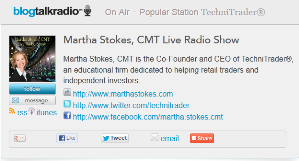 You've followed Martha on Twitter, attended live seminars, and heard Martha as a guest speaker on other radio shows. Now listen to Martha every Monday morning at 9am as Martha sets the tone for stock trading for the week.
Get Martha unique viewpoint on what is really driving the market action, which market participants are controlling price and how to trade the market. Martha's discussion are a refreshing change from the standard stock market news you hear everywhere.
Martha uncanny ability to expose what is really going on in the minds of the institutions and professional traders will help you see the markets in a whole new perspective. Instead of the ordinary rhetoric, Martha's frank discussions will not only surprise you but will make you start thinking about the stock market in a completely different way.