Martha Stokes, CMT Student Sucess Stories
Over the years, students have written Martha to thank her and tell her about their success with the TechniTrader Methodology and her guidance and support. These letters come in constantly to Martha and her support staff who work hard to help each individual student succeed.
Below are just a few of the many thousands of success stories students have shared with Martha: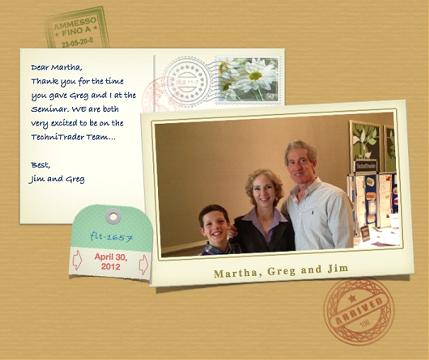 Hi Martha, Howard and Therese,
How are all of you. i just finished watching the workshop recording and found it to be fantastic, you guys looked great, i have been wanting to attend one of your workshops for quiet sometime now , but because of geographical restrictions it was not something i could do. Thank you so much for doing this, someday i hope to get to meet you in Vancouver at a trade show if you do come back again. as i missed it this past year.
It was great to see you all, and i like to have that person to person interaction especially when learning something new, so please keep the workshops going , it's a great way for us outside of the US to have a bit of interaction of some sort with our outstanding teachers.
and help me to learn things that can at times be difficult to grasp. The area which I found that helped me the most was the beginning at doing the market analysis in the daily journal, there are times that i become unsure about market condition and your guidance in this area is most helpful.
i am a position trader at this time, but would like to move to swing trading in the future, having said that, this is the area that i need to work at.
It was great to see how you interpret the numbers for market analysis , as this is an area I need to improve on. The one thing I have learned about this market we have been experiencing is… as you said in the Methodology Course, is that .. "Sideways Markets are difficult to trade". I didn't know what you meant at that time , but I sure do now. Lol …
I also follow you on twitter as well and it has been a huge support for pre market analysis, as at this time I do not record market futures. Every morning when I come of night shift , the first thing I do is visit your blog on twitter to read and write down in my journal what your analysis is of that days activity.
It's all wonderful support , and I am very grateful for it.
The one thing I am curious about is the types of actions we will see as the markets improve and move into a more active bull , will it be similar to how the numbers behaved during the bear market? I have not experienced that side of the market yet , but would like to know what to expect is coming in the future. It's all very exciting!
Thank you , All the Best, and a big giant WOW!!!
YHS, Kely