Martha Stokes, CMT Teaching Philosophy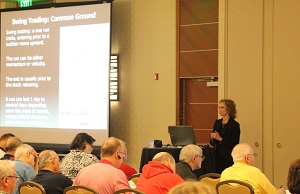 Martha's teaching philosophy embodies her many years of teaching at community colleges, teaching entrepreneurs how to manage their business, community outreach programs for the under-privileged, senior citizen educational programs, and her volunteer work with the physically challenged adult.
Her passion for teaching started in her early 20's and continues to this day. Martha believes that the adult student has the unique ability to learn things in ways that children do not. During her many years of teaching at local community colleges and outreach programs she developed a teaching style that embodied a curriculum that suited the adult student's learning patterns.
Each of the TechniTrader® Courses Martha has developed over the past decade is based on the syllabus design she created from her extensive work with the adult student. By combining a syllabus that begins with basic foundational knowledge, then summarizing that information followed by a student graded test to evaluate what they have learned and what they need to review, Martha's students excel.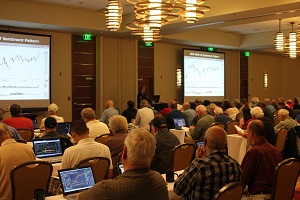 Martha believes that learning about the stock market is a process that starts with understanding why the market works the way it does, how it works, and where to go for reliable information. She often tells her students that strategies are the last thing they need to learn about stock investing or stock trading.
This dedication to the adult student and her extensive teaching experience in many educational venues is what separates Martha as an instructor. Her frank sincerity and willingness to share her knowledge about the stock market has endeared thousands of students to her.
For students who want to become career traders, Martha offers a unique approach by helping each one develop their own unique personal trading style and then teaching them how to apply the appropriate trading system and strategies for the current market condition.
Martha's goal for each student is to help them as individuals learn to become financially independent so that they can make their own decisions about their investing and financial future.
Martha Stokes, CMT says f

or those Students

who do not have the time to do their own investing:
"There is nothing wrong with using the services of a Financial Planner, but you must go into the meeting with knowing what you want to do with your money and how you intend to do it. You still need to understand the stock market and what it can and can't do for you. You need to make the decisions instead of relying upon someone else to make them for you. Only when you are in control of your finances will you be truly successful."
Although Martha specializes in the adult student her list of successful students includes many young people, her youngest student was 11 years old and her oldest student started when he was 92.
"The great thing about the stock market is that anyone with the desire and determination can learn to be successful. Mostly you just have to enjoy learning something new."
- Martha Stokes, CMT